EVENTS:
ECW 17th Annual Festival:
FRIDAY & SATURDAY - 10/6/23 - 10/7/23 – Outdoors featuring live entertainment and dancing under the "big top" tent; wine, beer and food will be offered at the outdoor festival.
Children welcome.
Admission: $10 – 21 and over; under 21 no charge
Friday, October 6th
Starting at 5 p.m.
Saturday, October 7th
Starting at 1 p.m.
2023 Live Music Schedule:
6 p.m. - 9 p.m.
Friday, March 17th - Tracy Thompson & Elaine Basham [American Rock]
Friday, March 31st - Michael T [Fun Rock]
Friday, April 21st - Linus Tate
Friday, May 19th - Dan Gutapfel [Classic Rock & Country]
Friday, June 16th - Jeff & Chris Stone [Electric Martini]
Friday, July 28th - Gary Lauziere [Gangsta Jazz]
Friday, August 18th - John Berrens - Boomarang [Old Time Mellow Rock & Roll]
Friday, September 15th - Rachel Holt [Country]
Friday, October 20th - Frank Bradford
Friday, November 17th - Gary Lauziere [Gangsta Jazz]
Sunday, December 17th - Deno [Eclectic Mix]
Join us at:
Vintage Indiana Wine Festival- Saturday, June 3, 2023
at Military park in Downtown Indianapolis
11 a.m. - 5 p.m | Food Experience 10:30 a.m.
Only those 21 and over will be admitted to the festival.
More Info for tickets!
Wine Varieties: Updated 1.26.2020
For current prices please Click Here
Until Further Notice
See "Restaurant" tab for Current Lunch & Dinner Menus
Carryout wine is available for purchase on Sundays from noon until closing in addition to wine offered during your visit to our restaurant during these hours.
Indiana Wine Trail, Southeast Indiana:
Ertel Cellars Winery is honored to be a part of the Indiana Wine Trail. Complete the entire Wine Trail and receive your FREE souvenir wine glass. For detailed winery location maps, lodging and attractions, visit Indiana Wine Trail.
Wine Trail Patrons enjoying Souper Saturday!
Ertel Cellars Wine - Perfect Gift for the Wedding Couple!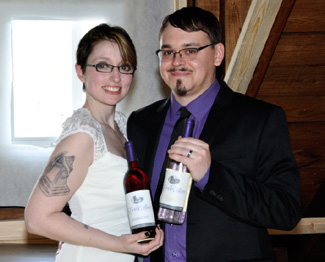 Take your favorite bottle of Ertel Cellars Wine on your vacation: